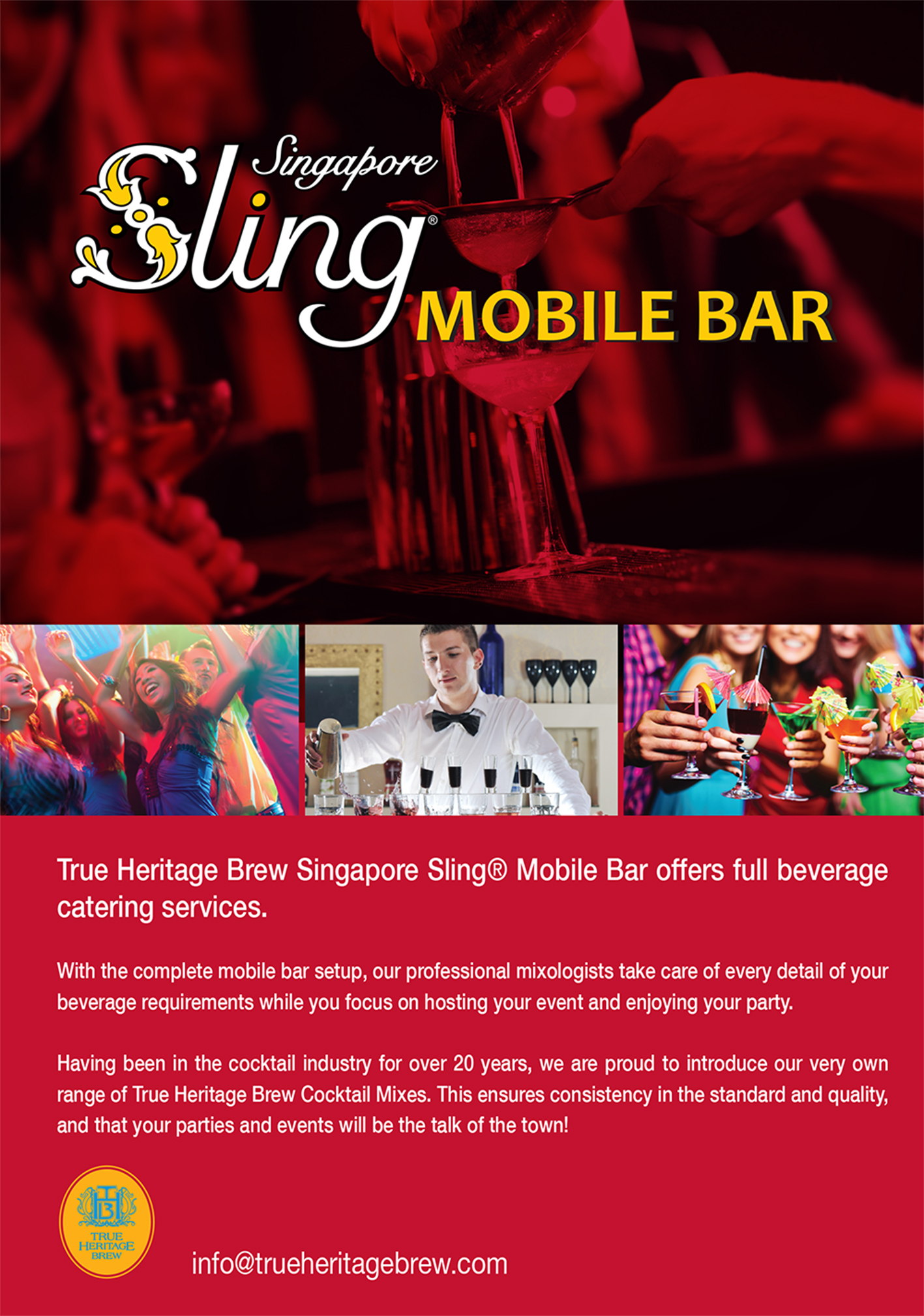 About Us
THB Singapore Sling mobile Bar is an exceptional bar service that comes to you! We offer a complete mobile bar set up with professional mixologists who will take care of all the details and your guests' beverage requirements. So you can focus on hosting your event and enjoy your special day/evening.
Our F&B specialists have over 20 years' experience in the cocktail industry with event management and customer service training. We pride ourselves in offering an impeccable and hassle-free bar service.
We are a company you can trust to bring the wow factor to all your events!
Services
We can plan, co-ordinate, and manage the event around the mobile bar, offering a complete mobile bar set up:
a) Customisation and branding to suit your theme
b) Bartending and bar service 
c) Cocktails, soft drinks and mocktails – our full range and can even create a special drink for your event
d) Full bar equipment including glassware and tools of the trade
THB is proud to introduce our very own range of THB cocktail mixes to ensure quality, high standard and consistency with every cocktail served, keeping your guests refreshed with tasty concoctions.
True Heritage Brew Iconic Cocktails
We can also offer hands-on cocktail workshops, tastings and masterclasses.
Events Catered For

1. Private
• Birthday parties
• Wedding receptions
• Anniversaries
• Engagements
• Christenings
• Baby and bridal showers
• Hen parties and Stag nights
• Outdoor garden parties
• Afternoon tea parties
• House parties

2. Public
• Festivals
• Fairs
• Sporting events
• Seasonal events

3. Corporate
• Product or business launches
• Corporate parties and networking sessions
• Office team bonding and building
• Summits, conventions and conferences
• Art gallery openings and exhibitions
• Members enclosures and VIP
Contact
We offer a flexible format tailored to your needs and budget. We specialise in pop-ups and offer bespoke bar solutions. We can work to theme and with your partner sponsors, to deliver a truly memorable and stand-out occasion. Please contact us for enquiries or further information. We would be delighted to provide you with a quote or discuss your event needs. info@trueheritagebrew.com